Children's Dental Sealants & Fluoride Treatment – Center, TX
Your Child's Smile Can Grow Up Strong!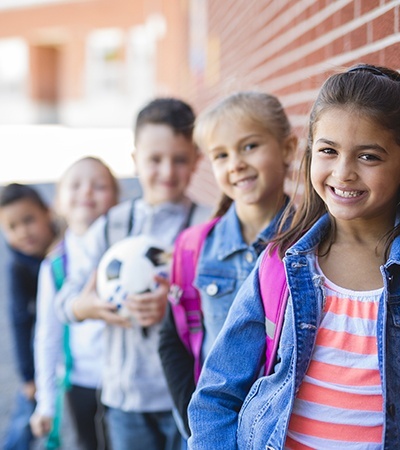 It's a sad fact that cavities are extremely common among children. After all, kids love sugar and don't always brush and floss their teeth as they should. As your children's dentist in Center, TX, we are on a mission to spare your little ones from the pain of tooth decay. One way we do this is by educating parents and kids on how to care for their young teeth. We also offer both dental sealants and fluoride treatments to fortify children's smiles.
Why Choose Family Dental Center of East Texas for Dental Sealants & Fluoride Treatment?
Kid-Friendly Dentists with Experience & Compassion
Friday & Saturday Appointment Availability
Special Needs Children Always Welcome
Dental Sealants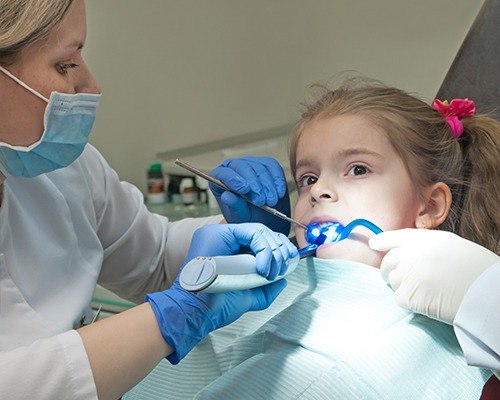 A dental sealant is a thin layer of plastic that we apply to the chewing surfaces of a child's molars and bicuspids. It stops plaque and food particles from accumulating on the teeth, thereby greatly reducing the risk of cavities.
We often recommend dental sealants in Center for children who already have many of their permanent teeth, especially if those teeth have deep grooves that may tend to collect lots of food particles. They're also important for young ones who may have a hard time mastering proper brushing and flossing techniques.
The process for placing sealants is simple and painless. It goes like this:
We polish the teeth in order to remove plaque and food debris.
Then, we dry and etch each tooth so we can easily apply the sealant material.
We use a brush to apply the sealant and a special light to harden it.
We check to make sure that your child still has a comfortable bite.
Dental sealants can last for up to 10 years. During routine exams after they're installed, we'll check them to make sure they're still in good shape. We may have to periodically do a bit of maintenance or repair on them so they continue to do their job.
Fluoride Treatments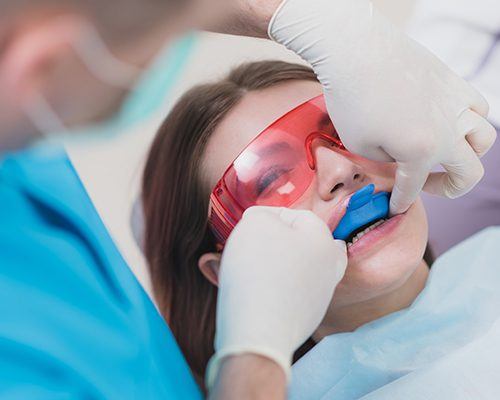 Fluoride is a remarkable mineral that helps to remineralize teeth; it can reverse the earliest signs of tooth decay, rebuilding enamel and greatly reducing the risk of decay. Fluoride also plays an important role in the formation of the teeth.
We often recommend topical fluoride treatments for children, especially for those who haven't adopted good brushing habits yet or who don't drink fluoridated tap water. We simply apply a fluoride paste to their teeth and give it a bit of time to work its magic; the process is fast and comfortable.
Sometimes, we may prescribe ingestible fluoride supplements for children who do not have all of their permanent teeth yet. Not only does this help the new teeth develop properly, but it also increases the amount of fluoride in the saliva, which serves as a topical boost for existing teeth.
Some parents have qualms about fluoride because they have heard about its potential negative effects. This mineral is perfectly safe for children as long as it is administered properly! If you aren't sure if fluoride treatment is right for your little one, express your concerns to us so we can discuss the issue. Most parents decide that the benefits of this mineral far outweigh any risks.
Preventing cavities is important! At your child's next appointment, let's talk about dental sealants and fluoride treatments.