Dental Implants – Center, TX
A Seamless Solution to Tooth Loss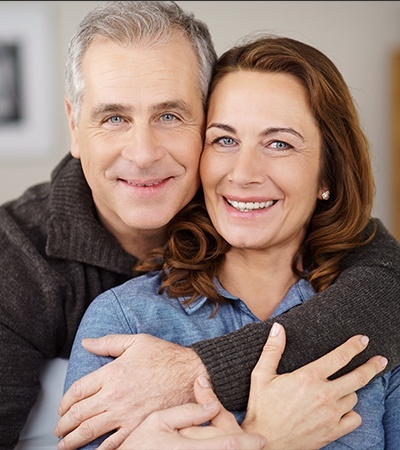 Is it possible to turn back the clock on tooth loss? Maybe not – but dental implants come awfully close to making this goal a reality! At Family Dental Center of East Texas, we love helping patients in need to explore this transformative option and regain a replenished smile that looks and feels virtually identical to the original, even following extensive dental damage. Contact our dental office in Center, TX to schedule your first consultation with Dr. Youngblood and Dr. Martinez or if you have any questions we can assist you with.
Why Choose Family Dental Center of East Texas for Dental Implants?
Partnerships with Center's Best Surgical Specialists
Attentive & Highly Trained Dentists
Individualized Treatment Plans For Unique Patients
Partnered With Center's Best Specialists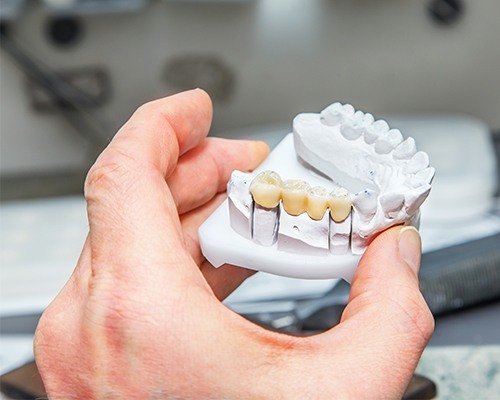 At the Family Dental Center of East Texas, we're proud to work alongside trusted oral surgeons and periodontists in the greater Center, TX community when providing dental implants. This collaborative approach results in greater success for our valued patients – our recommended specialist will handle the surgical portion of the treatment process (their forte) while our dentists will oversee the design and creation of your new, high-quality restoration. The final result is seamlessly attractive, exceptional in clinical quality, and truly built to last.
The 4-Step Dental Implant Process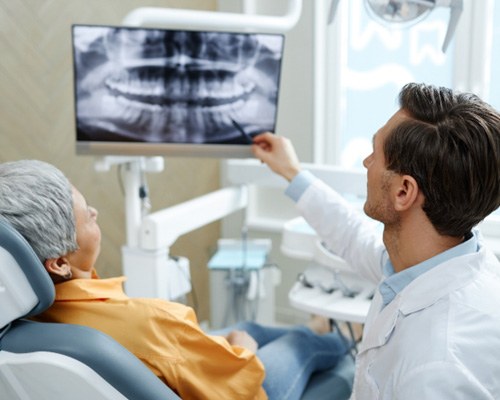 Every dental implant treatment that we plan is custom-tailored to meet each of our patient's individual needs. However, each person undergoing this process can expect to complete an initial consultation, dental implant surgery, and osseointegration/abutment placement before we secure your final prosthetic to your mouth. With our skilled and knowledgeable implant dentist in Center by your side, you can confidently restore missing teeth to regain the complete function and appearance of your smile.
Benefits of Dental Implants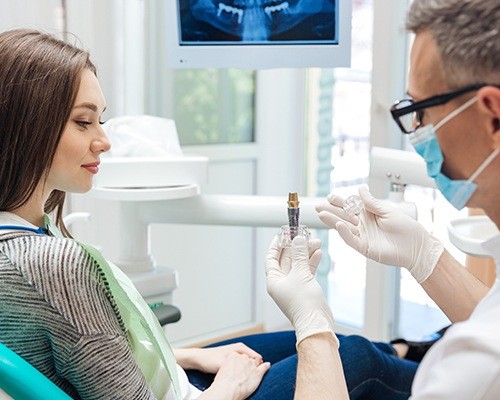 Traditional tooth replacement options are designed to replace the white, visible crown that sits atop the gum line. While this approach does well enough when it comes to improving aesthetics, the lack of a functioning tooth root causes the jawbone to deteriorate over time and can harm your oral health. Dental implants stand apart from the crowd because they start by replacing the root first, establishing a sturdy foundation that keeps the natural tissue safe and intact before attaching a new, attractive "crown" on top. Additional benefits include:
Lifelike Function – Implant-retained teeth are very durable and can be used to enjoy a full diet again without worry.
Convenient Maintenance – Dental implants can be treated in the same way as natural teeth with daily brushing and flossing as well as routine checkups here in Center.
Unparalleled Longevity – Implants are meant to last for multiple decades at a time, and many patients are even able to enjoy their new "teeth" for the rest of their lives with no costly replacements required.
Indications for Dental Implants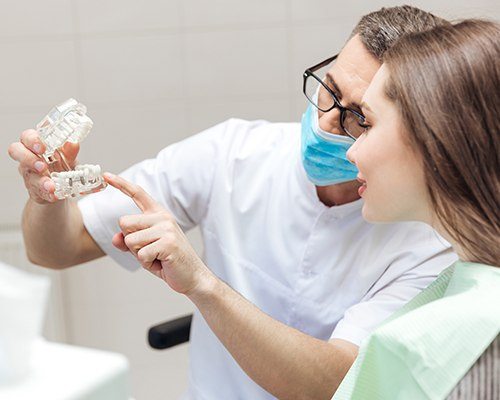 Another valuable benefit of choosing dental implants is their versatility. Whether a patient is missing a single tooth or an entire arch, this state-of-the-art treatment can be paired with custom restorations to bring back the needed dental structure in a confident, long-lasting way.
Missing One Tooth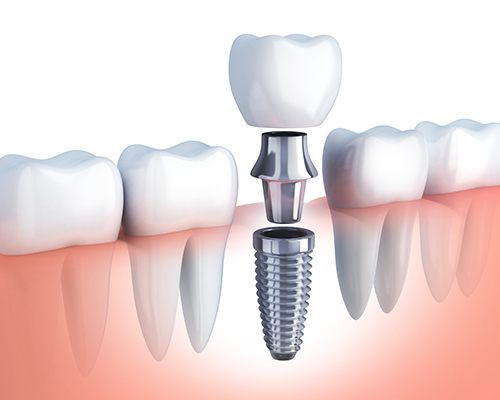 Do you have a single gap in your smile? We can pair an individual implant with an all-ceramic dental crown. Unlike a traditional bridge, the new addition fits right into place between natural teeth and doesn't require any big alterations. In fact, it's likely that you'll forget the new "tooth" isn't an original after some time has passed!
Missing Multiple Teeth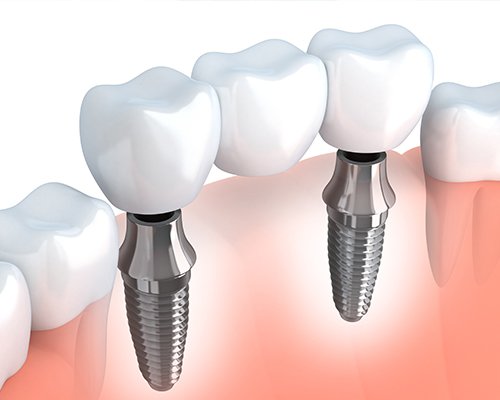 All-ceramic dental crowns can be paired with dental implants in multiple places throughout the mouth, but another option for consecutive gaps is an implant-retained bridge. Only two implants will be placed, with one positioned on either side to serve as "anchors" that keep the new, lifelike teeth securely in place.
Missing All Teeth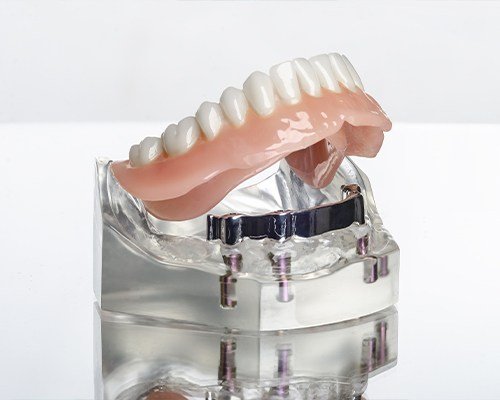 If a full row of teeth needs to be brought back, an implant-retained denture can work wonders. This option is also more cost-effective because the new prosthetic can be placed over a small number of angled implants instead of requiring one new implant per missing tooth. Implant-retained dentures can be permanently fixed in place or kept removable like a traditional denture depending on a patient's preferences.
Understanding the Cost of Dental Implants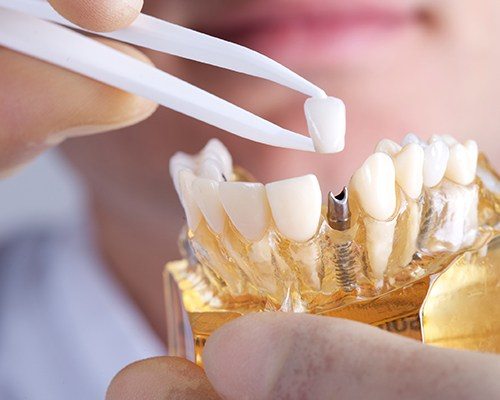 There are multiple factors that can influence the cost of dental implants, including the number of implants needed, what types of restorations are deemed ideal and whether or not any health-minded procedures (such as periodontal therapy) are deemed vital beforehand to ensure the most successful procedure possible. For this reason, Dr. Youngblood and Dr. Martinez will need to see a patient for a dedicated consultation before we can determine accurate cost information.
It's important to remember that while implants are certainly an investment, the benefits are well worth it in the end. While traditional prosthetics like dentures will likely need to be replaced over time, implant-retained solutions are designed to succeed for multiple decades with only minimal maintenance, which means patients may end up actually paying less in the long run.
Dental Implant FAQs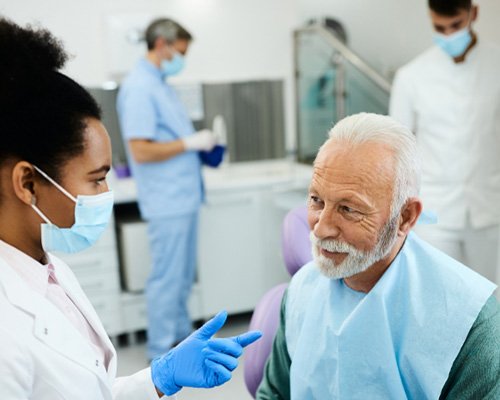 If you suffer from extensive tooth loss, you may be thinking about rebuilding your smile with dental implants in Center. You can review the information above to determine whether this method of tooth replacement is right for you. However, it's completely normal to have a few concerns about the process before committing to it. To help you, our team at Family Dental Center has decided to answer some frequently asked questions from patients.