Dental Bridges – Center, TX
Seamlessly Fill the Gaps in Your Smile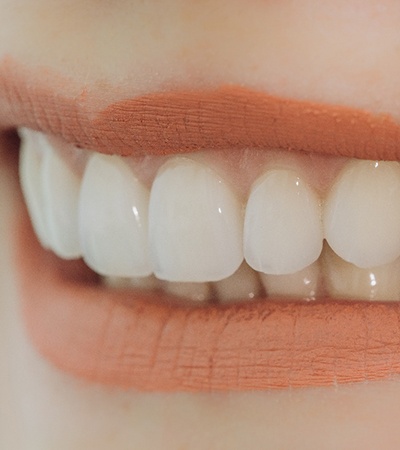 Even though your teeth are relatively small, they play a huge role in many aspects of everyday life. If you're missing a few, you may find it much more difficult to confidently eat, speak, and smile. What's more, those gaps in your pearly whites can cause more oral health problems down the road. Thankfully, at Family Dental Center of East Texas, we quickly and comfortably restore full smiles with dental bridges in Center! Read on to learn more about them and call us to schedule your consultation today!
Why Choose Family Dental Center of East Texas For Dental Bridges?
High-Quality Custom Restorations
Experienced & Talented Dental Team
Replace Several Consecutive Missing Teeth at Once
What Is a Dental Bridge?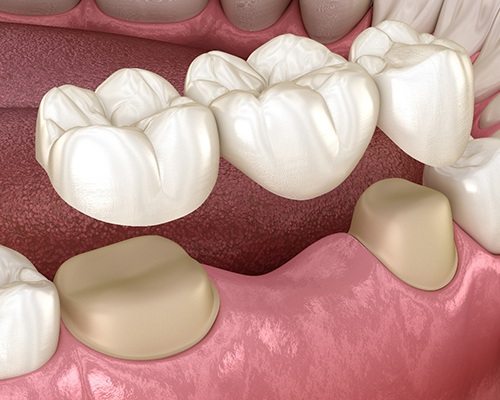 Dental bridges are designed to replace one, two, or even three consecutive missing teeth with just one treatment. The replacement teeth, called pontics, are held firmly in place by two dental crowns. These are then secured onto your natural dental structures or dental implants on either side of the empty space. The result will seamlessly fill the gap in your smile and restore your ability to talk and chew comfortably. Typically, your dental bridge will be crafted from dental porcelain, which is well-known for its durability and its likeness to the appearance of healthy tooth enamel. Each dental bridge is custom-made, so its shape and color will blend in perfectly with the rest of your pearly whites.
Are There Different Types of Dental Bridges?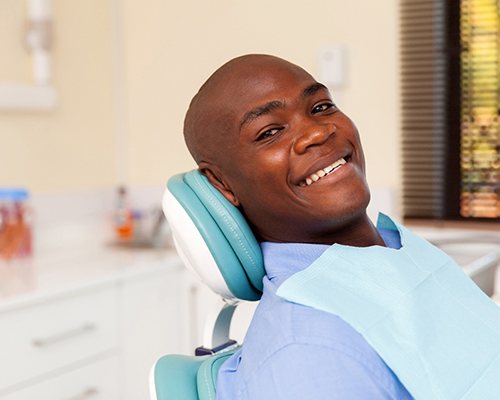 As we mentioned above, there are two ways we can use a dental bridge to "bridge" the gap in your smile. During your consultation, we'll go over all your options and help you decide which one will help you achieve your desired results.
Traditional Dental Bridges
Traditional dental bridges are the faster of the two methods. The dental crowns on each side of the pontics are fitted over the two neighboring teeth like a cap. Since the dental bridge will rely on these abutment teeth for support, they need to be healthy enough for a dental crown.
Implant-Retained Dental Bridges
The longer-lasting option is to replace your missing teeth with an implant-retained bridge. This method attaches the two dental crowns on either side to the top of a small titanium post, which is then surgically placed into your jawbone. Implant-retained restorations offer unmatched comfort, durability, and longevity, but require a certain amount of jawbone density to be successful.
What's the Process for Getting a Dental Bridge?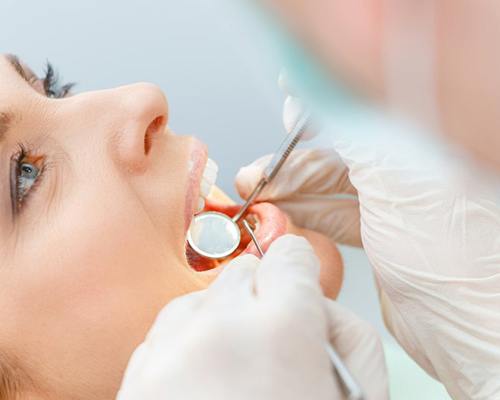 The process of restoring your smile with a dental bridge will depend on what type of bridge you and your Center dentist determine is right for you. For a traditional dental bridge, the entire treatment typically takes only two appointments. First, we'll prepare your abutment teeth for the dental crowns by removing a thin layer of enamel. Then we'll take impressions of that area and send them off to a dental laboratory, where they'll be used to create your custom restoration.
In the meantime, we can fit you with a temporary bridge to protect your teeth and gums until your next appointment. Before you know it, your permanent dental bridge will be ready and you'll be coming back to our office for your next appointment. The bridge will be placed and we'll make any minor adjustments needed to ensure your bite is comfortable. Then, you'll be ready to enjoy your complete smile!
What Are the Benefits of Getting a Dental Bridge?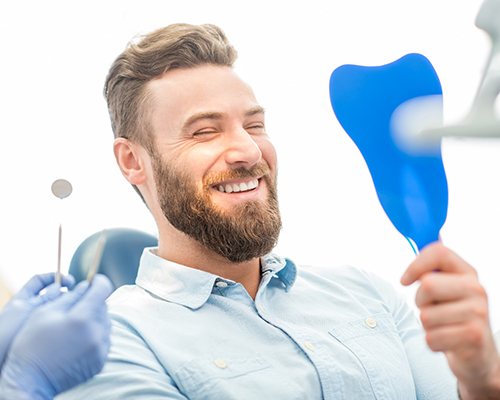 Traditional dental bridges offer a relatively simple, quick, and cost-effective way to replace several missing teeth at once. They're designed to restore your appearance as well as preserve it, as leaving gaps in your smile can cause crooked teeth. With the proper care, you can easily expect your dental bridge to help you eat, speak, and smile confidently for a decade or more!
Dental Bridges FAQs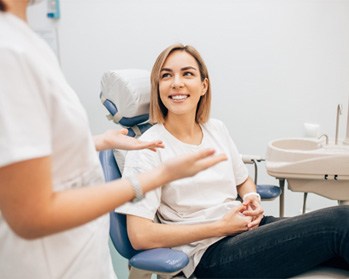 If you're ready to say goodbye to the gaps in your smile, you may be thinking about getting dental bridges in Center. They're one of the most common solutions for missing teeth, and the entire process is fairly straightforward! Of course, it's completely normal to have a few concerns before committing to anything. At Family Dental Center of East Texas, we want you to be as well-informed as possible so you can confidently move forward with your decision.