Emergency Dentistry – Center, TX
Broken Tooth? Bad Toothache? We Want to Help
Dental emergencies can be scary and painful, not to mention surprising. In fact, many of us don't get any warning at all that they're about to occur, which is likely to throw a big wrench into your family's busy routine. When these situations occur, already knowing a trusted dental team you can turn to for help makes a world of difference – and that's where the Family Dental Center of East Texas comes in! Our doctors go above and beyond to accommodate urgent dental injuries and/or pain as soon as possible. In many cases, we can even provide same-day appointments and assistance on the weekends! Don't wait – contact us immediately here in Center, TX.
Why Choose Family Dental Center of East Texas for Emergency Dentistry?
Same-Day Appointments & Weekend Availability
Children & Adults Always Welcome
We Take Dental Insurance & Medicaid
How to Handle Dental Emergencies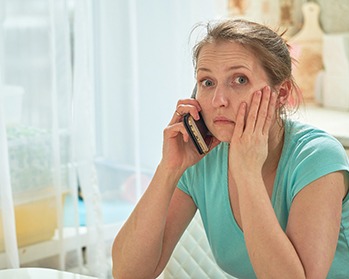 There are two major types of dental emergencies that patients (and parents) should be aware of. First, there are the unexpected physical injuries like broken teeth and knocked-out teeth that often can't be prevented. Then, there's the dreaded "toothache," which usually happens because of a serious dental infection that's raging below the enamel surface and has worsened steadily over time. Dr. Youngblood and Dr. Martinez have extensive experience with both types of emergencies and will work to relieve pain first before providing restorative solutions. Here are some tips for what to do before your family arrives at our dental office:
Toothaches
Is it possible that something stuck between two teeth or against the gum tissue is causing the pain? Try flossing and rinsing the mouth. If the discomfort persists, root canal therapy may be necessary to alleviate it. While it is safe to take Aspirin or a similar painkiller in the interim, do NOT touch the medication directly to the tooth/gum surfaces, as this may cause burning.
Chipped/Broken Teeth
If the tooth now has a sharp or jagged edge, place a piece of dental wax or sugarless gum over it to prevent it from cutting your lips and mouth. Gather up any large pieces of the tooth that have come loose and use a cold compress to reduce facial swelling.
Knocked-Out Tooth
Do you still have the tooth? If so, reattachment may be possible, but there's a very slim window of time available – often only around an hour. Contact our Center, TX dental office ASAP and carefully place the tooth back into its original socket if possible. Otherwise, carry it in a container of milk in order to keep it moist until you can reach us.
Lost Filling / Crown
The loss of a dental crown or filling isn't a true emergency, but it can lead to added sensitivity and pressure as the previously treated tooth is exposed to the elements once more. If you still have the crown, you can try adding some denture adhesive (usually found at a local pharmacy) and reattaching it yourself as a temporary solution until you can visit our team.
How to Prevent Dental Emergencies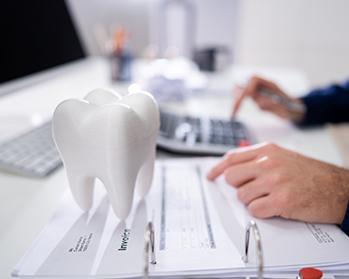 It sadly isn't possible to avoid dental emergencies with 100% certainty over time, but there are steps patients and families can take to reduce their overall risk, including:
Remember to schedule professional checkups and cleanings every six months! By reviewing each patient's dental health on a routine basis, our dentists can successfully stop small problems from worsening over time.
Exercise plenty of caution when eating foods that are overly hard and chewy. Additionally, don't chew on the ice in a cold drink.
Use scissors or other appropriate tools when cutting through packaging – not your own teeth!
Make sure to wear a custom mouthguard when participating in sports and/or if you're known to experience bruxism (teeth grinding).
Cost of Treating Dental Emergencies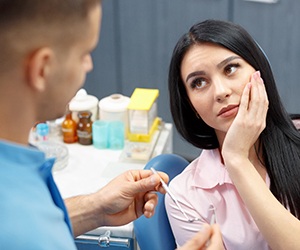 Every dental emergency situation is unique. Some symptoms can be alleviated with a simple prescription, while others could require extraction, root canal therapy, or even a brand-new tooth replacement like dental implants. For this reason, we won't know the cost of you or your loved one's specific case until your family arrives in-person. Rest assured that dental insurance is warmly welcomed here in Center, including Medicaid. We will do everything in our power to make necessary care affordable and stress-free as we get hurting smiles back on track.