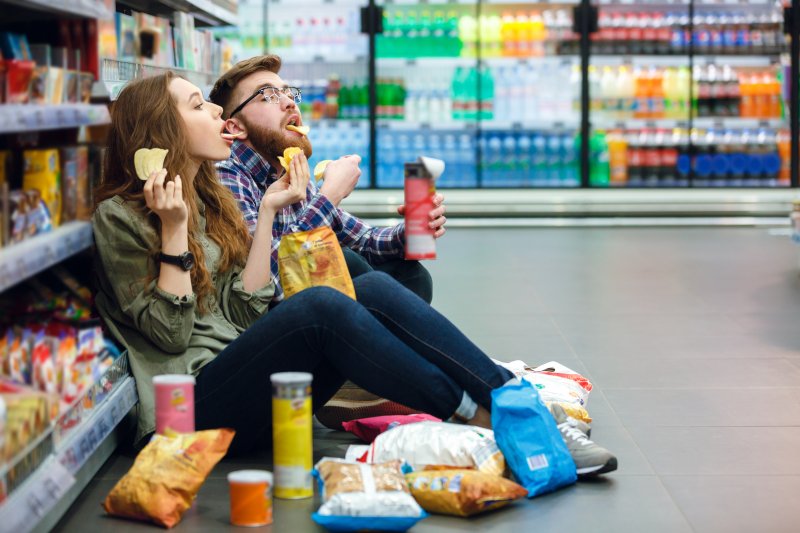 Would you consider yourself to be an avid snacker? Whether you like to enjoy a treat at work or you've allowed yourself to have a lazy weekend, snacking is something that many people are guilty of. However, taking part too often with unhealthy foods and beverages can leave you with oral health issues. Continue reading to learn more about the effects of snacking on your oral health as well as some tips to help.
How Can Snacking Affect Your Dental Health?
After you take the time to enjoy something particularly sugary or starchy, your smile is likely to face the consequences. Bacteria enjoy feeding on these ingredients and release a week acid as a byproduct. Acid weakens your protective enamel and increases your likelihood of developing dental problems, like tooth decay and sensitivity. In the end, more sugary, starchy, and acidic foods and drinks means additional issues in the long run.
Tips for Your Diet and Dental Health
If you're craving a snack, you don't need to go hungry to protect the health of your smile. Here are a few tips to help you keep both your body and pearly whites in good health:
Plan out your meals: By planning out your meals a few days ahead of time, you will be able to keep your menu a little bit more organized. You won't feel the urge to snack nearly as much if you have a delicious meal planned later in the evening.
Eat breakfast daily: Just as they say, breakfast is the most important meal of the day. Try to choose something that is high in protein, like an omelet, to get your day started. This way, you won't feel the need to have unhealthy snacks before lunch.
Drink plenty of water: Feelings of thirst can sometimes be mistaken for hunger. It is important that you stay hydrated throughout the day, but soda and sports drinks aren't the best way to do this. Drink plenty of water instead.
Choose Healthy Snacks: Foods that are processed tend to have a lot of extra sugar added. Choose healthier options, like fruits, vegetables, and nuts.
Getting out of the habit of enjoying snacks can be very challenging, but by sticking to just a few well-balanced meals each day and picking out healthy foods to curb your hunger, you can keep your smile in good health going forward!
About the Author
Dr. Thomas Youngblood is an experienced dentist who has been working in the field for well over two decades. He earned his dental doctorate from the University of Texas Health Science Center at San Antonio. Currently, he is a proud member of the American Dental Association, Texas Dental Association, East Texas Dental Society, and an Affiliate Member of the American Academy of Pediatric Dentistry. He is also currently a Commissioned Officer in the Texas Army National Guard where he proudly serves his community, state, and country. For more information or to schedule an appointment at his office in Center, visit his website or call (936) 427-9070.