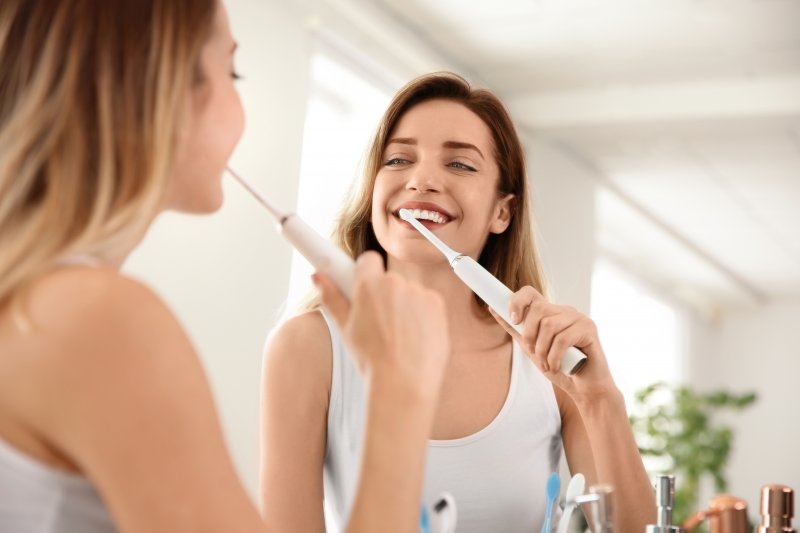 According to the American Dental Association (ADA), you should be brushing your teeth at least twice a day for two whole minutes each time. However, they do not have a recommendation for what time of day works best. Most people brush right before bed, but in the morning, it differs a little bit more. Even though you may not prefer to have minty toothpaste in your mouth before drinking orange juice, some experts suggest that it may be the best option for the health of your smile. Continue reading to learn more from your family dentist in Center about why before breakfast is the best time of the morning for you to brush.
Why Should You Brush Your Teeth Before Breakfast?
At some point in your life, you have probably experienced morning breath. This occurs because when you are sleeping, plaque-causing bacteria in your mouth multiply and leave an unpleasant taste and odor for you to encounter when you wake up. Brushing your teeth right away when you wake up helps to rid your teeth of this harmful plaque and bacteria. Brushing also coats your teeth with a protective barrier against the acids in your food.
Another reason that brushing teeth before breakfast may be a better idea is because you should wait at least 30 minutes after eating acidic foods. So, if you are eating, brushing your teeth, and then rushing out the door, you could be damaging your enamel which has been softened by your morning toast, juice, or coffee.
Can You Still Brush Your Teeth After Breakfast?
If brushing your teeth after breakfast makes more sense for your routine, that is okay. However, you should be taking precautions so that you don't wear down your protective enamel. Here are a few popular breakfast foods that are particularly harmful if you brush your teeth immediately afterwards:
Dried fruit
Fruit Juice
Citrus fruit
Pastries
Bread
Breakfast foods like omelets, yogurt, and whole grain cereals tend to be better options to start your morning. If you can, wait between 30 minutes and an hour before brushing your teeth after breakfast to make sure you aren't hurting your protective enamel. Drinking some water or chewing sugar-free gum is a good way to clean your teeth after you eat and before you brush your teeth in the morning.
In conclusion, before breakfast is the best time to brush your teeth in the morning. But if you take the right precautions, you can make brushing after breakfast work too. This way, you can keep your enamel safe from harm.
About the Practice
At Family Dental Center of East Texas, you have both a children's and family dentist using their expertise to treat patients. Dr. Thomas Youngblood earned his DDS from the University of Texas Health Science Center at San Antonio Dental School. Dr. Mireya Martinez graduated from the Texas A&M College of Dentistry. They are both members of the American Dental Association and Texas Dental Association. For more information on proper oral hygiene or to schedule an appointment, visit their website or call (936) 427-9070.