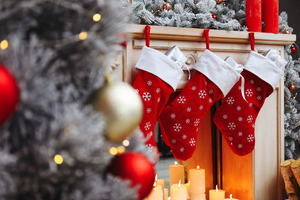 There are few things more exciting than seeing a stocking full of goodies on Christmas morning. Candy and other sweet treats are among the most common stocking stuffers, but while there's nothing wrong with indulging now and then, you might want to balance things out with a few gifts that promote good oral health. Below are 5 tooth-friendly gift ideas that will leave everyone in your family smiling.
1. New Oral Hygiene Products
Your loved ones will need to buy new oral hygiene products in the future, so why not save them some time and money? An electric toothbrush or a powered flosser can be perfect for filling up a stocking, and they can encourage your family to take proper care of their smiles going into the new year. If you're getting a toothbrush for your child, try looking for one that has their favorite character on it; there are also toothbrushes that play fun songs while in use.
2. Sugar-Free Gum
Want to give your loved ones something sweet to enjoy on Christmas morning that won't increase their risk of tooth decay? Sugar-free gum is often the perfect option! Chewing gum causes the mouth to produce more saliva, which helps wash away the food particles that might contribute to cavities. Moreover, many kinds of sugarless gum are sweetened with xylitol, which has properties that fight harmful bacteria in the mouth.
3. A Toothbrushing Timer
According to the American Dental Association, you should always brush your teeth for two minutes at a time. If your family members are having a hard time getting into this habit, a toothbrushing timer can be very helpful. There are many different kinds of timers to choose from, especially for kids; look for one that will help make brushing an enjoyable experience.
4. Healthy Snacks
If you want to avoid giving your loved ones candy for Christmas this year, there are plenty of healthier alternatives! Salted nuts, string cheese, raisins, and pretzels are all examples of tasty snacks that are also good for your teeth. Your dentist might have a few more ideas for smile-friendly foods that can make for great stocking stuffers.
5. Reusable Straws
Did you know that simply drinking through a straw can go a long way toward protecting your oral health? It allows sugary and acidic beverages to bypass your teeth, minimizing the amount of contact they have with your enamel. Getting reusable silicone straws for the entire family can be a great way to protect everyone's smiles while also providing a fun new way to enjoy beverages.
The above present ideas can go a long way toward helping your loved ones keep their teeth and gums safe. This year, why not give the gift of a smile that will last a lifetime?
About the Practice
At Family Dental Center of East Texas, Dr. Youngblood and Dr. Martinez offer convenient, comprehensive, and high-quality dental care for children and adults. They're here to make maintaining excellent oral health easy for your entire family by offering a complete menu of services in one location, from basic preventive care to advanced restorative care. To schedule a checkup and cleaning at our office in Center for the holidays, visit our website or call (936) 427-9070.