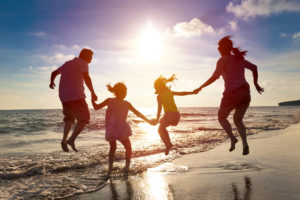 School is out and summer is finally here! Is your family planning a fun-filled vacation in the weeks to come? Don't let a dental emergency derail your plans for adventure. Whether you are going camping in the woods or will be relaxing at the beach, an unexpected accident or infection could easily ruin your vacation. Here are 5 tips from an emergency dentist in Center to protect your family's teeth this summer.
Pack Healthy Snacks
Vacation is the perfect time to let loose a little and enjoy sweet treats here and there. However, if your family is going on a long road trip, it's best to pack healthy snacks for the journey. Leave the candy and dried fruit at home and instead grab carrot sticks, celery, apple slices, cheese sticks, and nuts. All of these nutritious snacks will keep your mouth healthy and your hunger at bay until you reach your destination.
Practice Safe Swimming
Pool accidents are one of the top causes of dental emergencies during the summer months. Children (or adults) running on slippery decks can easily fall and chip or knock a tooth out. Diving headfirst into shallow water and hitting one's face on the bottom can also lead to dental trauma. Be sure to teach your kids safe swimming practices to ensure an afternoon by the pool doesn't turn into an afternoon in the emergency waiting room.
Prioritize Sports Safety
If your family plays sports during the summer, don't forget to wear mouthguards. A sharp elbow during a pickup basketball game or a mishit softball can easily fracture or dislodge a tooth. While a mouthguard may not be able to prevent accidents from happening, they can protect your teeth from damage. These days, mouthguards come in all sorts of vibrant colors, so your kids can pick out their favorite look!
Pack a Dental Emergency First Aid Kit
Although many dental emergencies are the result of poor oral hygiene, unpredictable accidents can also happen. You can prepare for the unexpected by making a small, portable first aid kit. Keep your dental emergency first aid kit in the car during summer road trips or in your purse during your kids' soccer games. Your first aid kit should include:
A small container with a lid
Saline solution
A handkerchief
Gauze
Travel-sized bottle of Ibuprofen
Your dentist office's phone number
Visit a Family Dentist
Back-to-school dental checkups are an annual tradition for many families. However, it's also a good idea to take your children to the dentist at the end of the school year, especially if your family will be traveling during the summer. Your family dentist in Center will be able to detect and treat any minor problems now, so you can worry less about dental emergencies during your family vacation.
Now that you know how to take action to prevent dental emergencies, you can spend less time worrying and more time enjoying your summer adventures.
About the Practice
The talented team at the Family Dental Center of East Texas regularly provides quality emergency care to patients with infected or injured teeth. In many cases, they even provide same-day appointments and assistance on the weekends! To learn more about how to prevent dental emergencies during summer vacation, visit the Family Dental Center of East Texas website or call 936-427-9070.