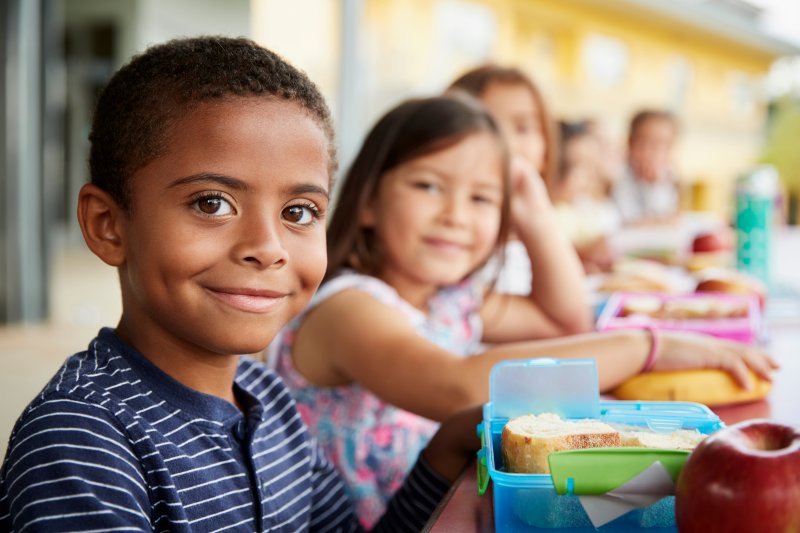 Children and parents across the country are officially back in school mode. While scrambling to get the last few items on your little one's supply list, don't forget to pick up some tooth-approved foods as well. Believe it or not, a healthy smile can do more than just make your children's dentist in Center happy – it can improve academic success! By making a few adjustments here and there, you can turn your child's cavity-filled lunch into a healthy one.
Sandwiches
When you think of a child's school lunch, you likely envision a sandwich. It doesn't matter if it's PB & J or Ham & Cheese, they all have one shared ingredient – bread. Most types of bread contain carbohydrates that fuel cavity-causing dental plaque. However, white bread is the worst one for your smile. It can stay on your child's teeth for hours, increasing the risk of cavities.
Healthy Alternative
Instead of using white bread, consider using whole-grain bread! Not only does it promote healthier teeth and gums, but they tend to result in less plaque buildup when you eat them. You can also use pita bread or tortillas to make wraps.
Potato Chips
Who doesn't love potato chips? While they don't seem like a horrible snack, they can still contribute to dental plaque and damage your teeth. Most chips contain added flavors and ingredients that may be detrimental to tooth enamel when your child eats them day after day.
Healthy Alternative
Whenever possible, pack your child's lunch with nutrient-dense foods like fruits and vegetables. Options like apples and carrot sticks can help eliminate dental plaque while you chew. Plus, they're packed with lots of vitamins and minerals! Some other great choices include celery, cucumbers, berries, carrots, and grapes.
Juices
Juice boxes and pouches are easy to pack and are a hit with most kids. However, they often contain natural or artificial sweeteners, even if they say they're sugar-free. The sugar content can increase your child's risk of cavities and decay.
Healthy Alternative
Water is truly the best drink for your child's overall health! Fluoridated water can lead to healthier teeth and bones for added protection against cavities. If your little one doesn't like drinking water, you can encourage them by allowing them to pick out a nice water bottle at the store. You can also personalize it with their name!
Don't forget to prioritize your child's oral health. With these kid-friendly school lunches, you can ensure their smile remains problem-free all year long!
About the Practice
At Family Dental Center of East Texas, we offer high-quality and comprehensive services for patients of all ages. Our team wants to help your entire family maintain a happy, healthy smile for life. We value patient education to help you make confident and well-informed decisions for your family's oral health. For more back-to-school tips, visit our website or call (936) 427-9070.