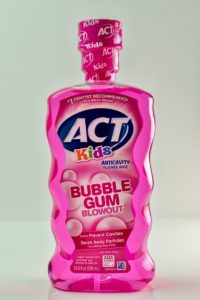 When you're trying to teach your child, but there's no element of fun involved, it's going to make learning tougher if they aren't fueled by enthusiasm. Take dental care, for instance. Developing an oral hygiene routine usually isn't considered a fun activity. But what if you bring some tools into the mix that get them excited? In recognition of National Children's Dental Health Month, check out some fun product ideas from a children's dentist in Center.
Tasty Tablets
The concept of battling invisible bacteria is often tough for kids to grasp since they are usually visual learners. Giving them disclosing tablets to chew can be a cool option since this interactive and unique product shows them the "enemy" in the fight against cavities. How? The tablets turn plaque a bright shade of red! The vegetable-dye-based chewables are perfectly safe and typically used after brushing and flossing so your child can see if they did a good job during their hygiene regimen.
Festive Fluoride
Young children may find rinsing with mouthwash more fun than brushing and flossing, and it's undoubtedly easier. Your kiddo can crank up the good times with a bottle of mouthwash displaying their favorite cartoon hero. Whether it's a Marvel superhero, a character from Frozen, or another figure who gets them fired up, there's no shortage of festive fluoride rinses on the shelves at pharmacies and supermarkets. Some of these mouthwashes will tint the color of food particles to help your child see evidence of bacteria when they spit into the sink. Even though kids' mouthwash doesn't contain alcohol, be sure they always spit it out.
Dinosaur-Shaped Fun Flossers
What's more challenging than getting your child to brush? You probably said "flossing." Fortunately, several companies have created fun, disposable flossers available in an array of sizes and shapes. Some of the best-selling ones are shaped like dinosaurs! Most kids' flossers come in mixed berry, grape, or tropical flavors as opposed to mint.
Light-Up Toothbrushes
Perhaps a toothbrush was just a boring piece of plastic when you were a child, but your kids have much more enticing options. You can get them a toothbrush that lights up or plays a song while they brush. Some options feature Disney characters, while others have heroes from Star Wars. There are toothbrushes with automatic timers to help ensure your child brushes for two minutes in case they are having so much fun they lose track of time.
Sparkle Fun Toothpaste
Decades ago, your parents might have brought home plain, white toothpaste for your and your siblings. These days, kids can enjoy blue toothpaste with sparkles that tastes like bubble gum. The eye-catching appearance and semi-sweet flavor help convince your youngster that dental care isn't such a chore after all.
In a vacuum, dental care might not be that fun for a child. But, as you can see, you certainly have ways to stack the deck in your favor and get them excited to take care of their smile so their dentist doesn't have to always save the day when cavities come around.
About the Author
At Family Dental Center of East Texas, we strive to deliver the high-quality, comprehensive, and convenient care your family deserves. We welcome patients of all ages, dental insurance is welcome, flexible financing is available, and we'd love to celebrate National Children's Dental Health Month with your little one. If you need a children's dentist, we offer calming sedation dentistry, dental sealants, fluoride treatments, fillings, and more. You can schedule an appointment for your child on our website or call (936) 427-9070.