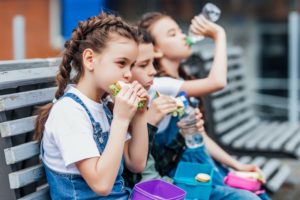 It's no secret that being a parent can be a hectic whirlwind of activity. Between getting your kids ready for school, keeping the house clean, helping them finish homework, and spending quality time with your family, it can be difficult to find time to plan out healthy school lunches. Unfortunately, adding the wrong foods and snacks to your little one's daily diet can dramatically increase their risk of issues like cavities! Thankfully, there are plenty of easy and delicious lunch ideas that will keep your child's smile healthy and strong. Read on as we go over four healthy school lunch recommendations from your Center children's dentist.
1.) Breakfast for Lunch
If your child likes breakfast foods, there's no reason they can't have them for lunch as well! Plain yogurt, low-sugar granola, and fresh fruit are all great items for school lunches that won't cost you any extra time in the kitchen. Or, reheat leftover whole-grain banana pancakes or a slice of vegetable frittata and pack it in an insulated container. Switching up their lunchtime routine makes it more exciting!
2.) DIY Lunch Kit
While pre-packaged lunch kits are convenient, they're often overpriced and lack essential nutritional value. Instead, you can give your little one the freedom of choosing exactly how they want to eat lunch with a home-made lunch kit! Use a small bento box or sectioned container to pack reasonable portions of your child's favorite meats, cheeses, nuts, fruits, and vegetables. DIY lunch kits are easy to assemble, and you can make several of them ahead of time to be prepared for the whole week!
3.) Lunch on a Stick
If you're looking for a way to get your child excited about eating healthier foods at lunchtime, try serving them on a stick! This new and whimsical way of eating will help keep your child entertained while eating healthy foods. You can try putting almost any of their favorite foods on a stick, like small chunks of cooked chicken or fish, meatballs, and chopped veggies. You could even make a skewer filled with their favorite fruits!
4.) Soups or Salads
There's something incredibly comforting about enjoying a home-made soup on a cold day. During the chilly months, consider making meals like chicken noodle soup or beef stew for dinner then packing the leftovers for your child's lunch the following day. Then, in the warmer seasons, pack a refreshing salad for them to enjoy. Like a DIY lunch kit, store croutons, salad dressing, and whatever other add-ins your child likes in separate containers so they can have lunch exactly how they like it.
Putting a little forethought and effort into your child's school lunches can be a great way to take care of their oral and overall health daily. Try these four healthy lunch ideas and use them for inspiration to come up with even more tasty, nutritious meals!
About the Practice
At Family Dental Center of East Texas, we don't believe in one-size-fits-all, impersonalized dentistry. Instead, our compassionate and talented team focuses on each patient as an individual to make sure they get the comfortable and effective dental care they need. We offer a wide variety of services dedicated to meeting the unique oral healthcare needs of children, and we will be happy to help you keep your little one's smile healthy as they grow. To learn more about children's dentistry, we can be contacted via our website or at (936) 427-9070.