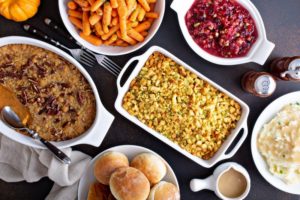 You walk into grandmother's house, look around, and inhale deeply – oh the sights and smells of the Thanksgiving feast! Saying you are hungry enough to eat a horse just feels inadequate today. You might just get a second helping of everything.
Many people have had this mindset once or twice for the Thanksgiving meal, especially if your family has a culinary whiz or three among them. Don't let your guard down in the name of deliciousness, however, as some of the Thanksgiving side dishes loom as a troublesome foe for your teeth.
Keep reading to learn about some Thanksgiving side dishes that can be problematic for your oral health from your dentist in Center.
Classic Stuffing
People who like stuffing often love stuffing. It's not a sugary treat, so why is it a prime suspect in this blog post? Stuffing, also known as dressing depending on how it's served, is packed with carbohydrates. Just like sugar, when carbs remain on your teeth, oral bacteria begin to feed on them and the resulting acid byproduct begins to punish your tooth enamel. You'll get no argument here that stuffing is delicious but swishing your mouth with water when you're done is smart and brushing your teeth at meal's end is flat-out brilliant.
Fruit Salad
It would be nice to assume anything made with fruit is healthy, but unfortunately, assumptions don't pay the dental bills. Fruit salad has plenty of sugar and fruitcake is not going to sneak under the radar either, as its dried fruits are adept at sticking to your teeth after chewing. Drinking water early and often when you eat foods like this is beneficial to wash away food particles and prevent bacteria from proliferating in your mouth.
Cranberry Sauce
Canned cranberry sauce is one thing, and it has fans of its own, but the homemade version is what Thanksgiving dreams are made of. Down here in Texas, you may have even had the privilege of enjoying jalapeno cranberry sauce to spice up Thanksgiving. No matter the variety of sauce, however, this dish is filled with cavity-fueling sugar. Fresh cranberries are a much safer bet for your teeth and might deliver the flavor you're looking for. If you must stick with the canned or homemade sauce varieties, keep the glass of water nearby and the toothbrush ready to roll when the meal is through.
Sweet Potato Casserole
Sweet potatoes cooked with butter, and brown sugar, and toasted marshmallows – oh me, oh my! If that sounded tasty, it's easy to see why. With the caveat that eating the sweet potatoes alone is good for your health, the sugary transformation they take with the rest of those ingredients will have your tooth enamel trembling with terror. Not to beat a dead horse – tough day for horses in this post, huh – but this is yet another item where you'll be doing yourself a huge favor if you swish with water after each bite and then head to the bathroom for brushing. Flossing should not be left out of the mix, as that would be a wonderful addition to your post-meal process.
These are some seriously tasty foods that mean business when it comes to being problematic for your oral health unless you are diligent during and after eating them. If pivoting to alternative side dishes on Thanksgiving simply isn't an idea you'll entertain, at least take the aforementioned tips with you for holiday meals, and really any meal for that matter. If your teeth could talk, they'd definitely be thankful!
About the Practice
At Family Dental Center of East Texas, we promise to provide the convenient, comprehensive, and high-quality dental care you deserve. Our friendly, highly skilled team is ready to protect the beautiful smiles of your entire family tree. With sedation dentistry available to make you comfortable and flexible payment options to make your wallet relax, we're the dental center you've been looking for. We're all too familiar with the challenges of trying to make smart food choices during the holidays – it's something everyone goes through. When the celebrations with family and friends are through, we'll be here to take care of your teeth with a dental cleaning and exam so you can rest assured your oral health is in good standing as you enter the New Year. To schedule an appointment, visit our website or call (936) 427-9070.